Gaming Research Colloquium: Professor Darryl A. Smith
When
:
Feb. 24, 2011,

12:15pm

-

1:15pm
Campus Location:
Lied Library
Office/Remote Location:
Special Collections Reading Room, Third Floor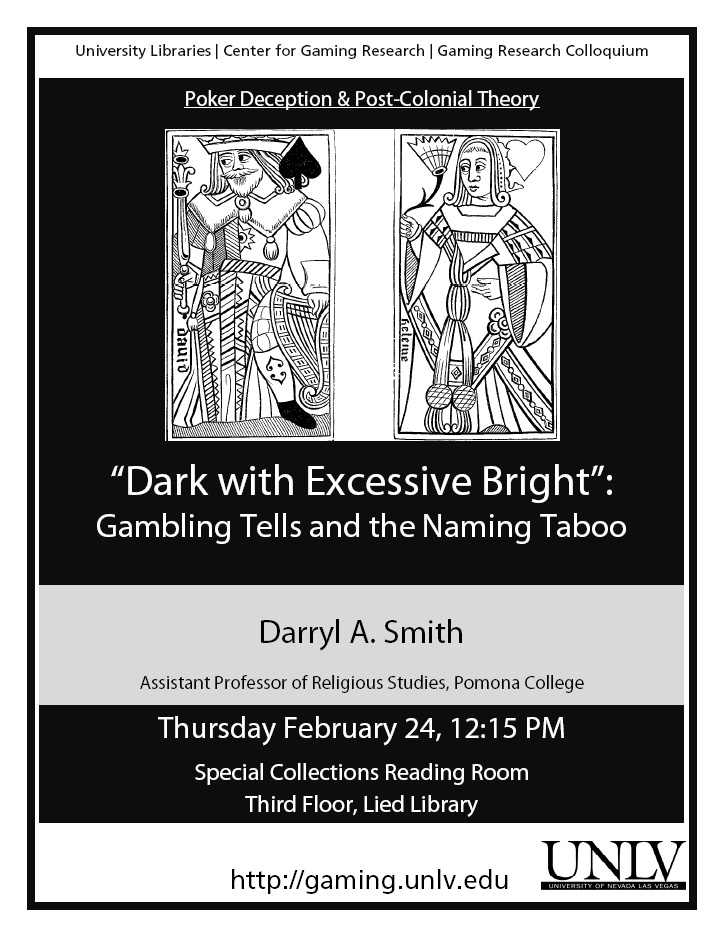 Please join the Lied Library and Center for Gaming Research as Research Fellow Darryl A. Smith delivers a Gaming Research Colloquium talk titled "'Dark with Excessive Bright:' Gambling Tells and the Gaming Taboo." Smith, an assistant professor of religious studies at the Pomona College, will discuss the philosophical commonalities between poker tells and themes in religious and secular writing. Within sacred language the belief has existed that the personal name is an intrinsic part of oneself. As such, its revelation threatens exposure to powers that might undo its bearer. Smith considers the relation between the detection of tells in gambling and that of so-called true names. Strategies of concealment and detection that are basic to both tell-reading and true-naming are explored in relation to post-colonial theory's insights into using light in order to hide things.
Those interested in poker, philosophy, religious studies, and the literature of gambling are encouraged to attend.
Admission Information:
Admission is free and open to the public.
Contact Information:
Name: David G. Schwartz
Office: Special Collections
Phone: 702-895-2242
E-mail: dgs@unlv.nevada.edu
More info on this event:
http://gaming.unlv.edu

Event Sponsor: Center for Gaming Research
Related Events
Related Links
Looking to get involved?
Check out student organizations at UNLV.