Kick Butts Week
When
:
Mar. 20, 2012,

9am

-

6pm
Show Recurring Dates

Recurring Dates:
Mar. 20, 2012, 9 am - 6 pm
Mar. 21, 2012, 9 am - 6 pm
Mar. 22, 2012, 9 am - 6 pm
Hide [x]
Campus Location:
Valerie Pida Plaza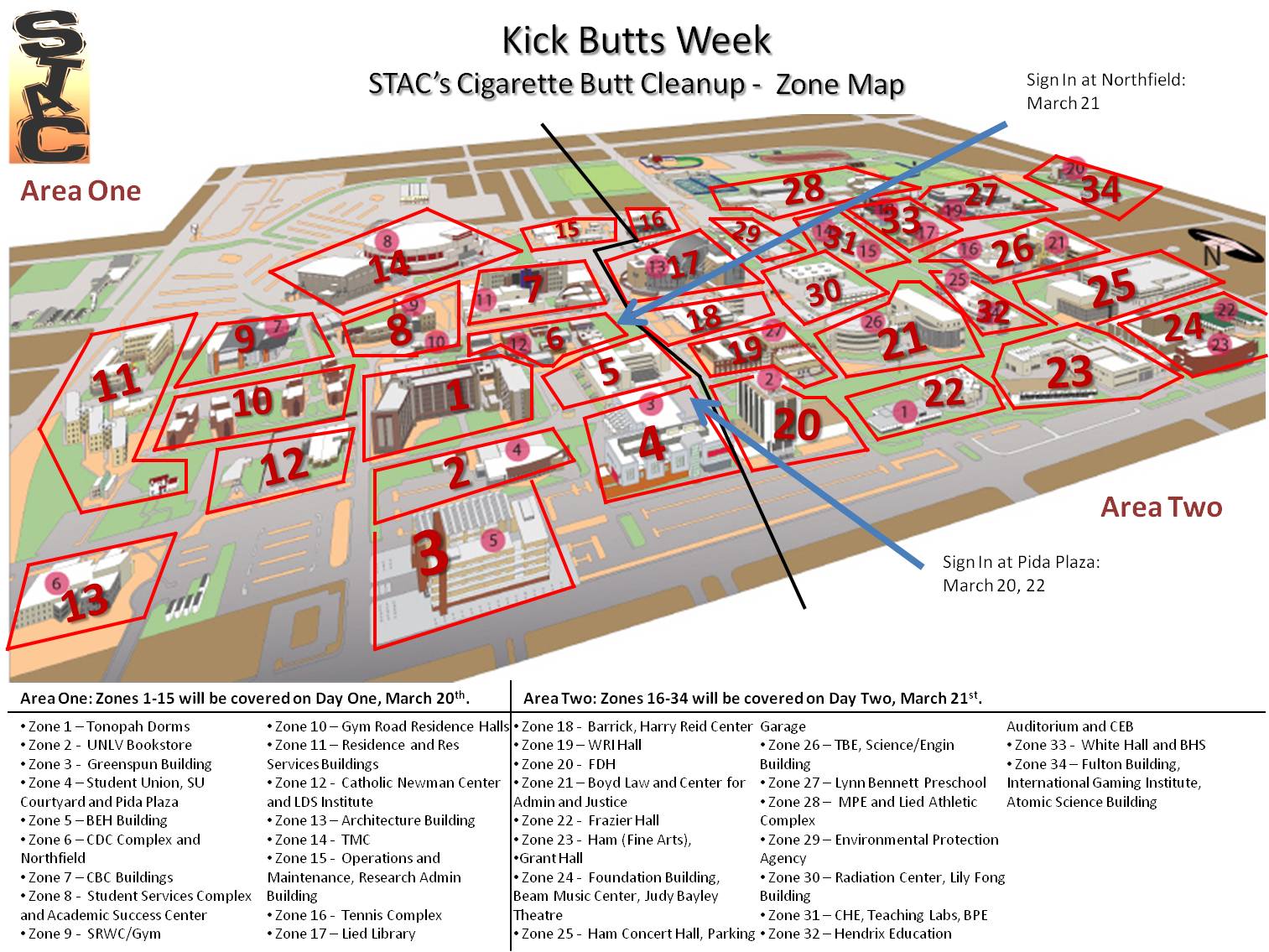 Are you interested in improving the image of our campus and community?
The Student Tobacco Awareness Coalition partners with existing UNLV organizations (i.e. Colleges Against Cancer, AMSA, etc.) and community-wide public health groups like Southern Nevada Evolvement (SNHD's youth advocacy movement), ALA, NPHA to raise awareness of the financial, public health and environmental risks of toxic tobacco use -- through demonstrations, campus cleanups and campus/community wide educational activities. The Southern Nevada Health District is partnering with the Student Tobacco Awareness Coalition (STAC) to host Kick Butts Week.
The purpose of Southern Nevada Evolvement's Kick Butts Day is to highlight the over 600 smoke free university and college campuses nationwide. STAC is partnering to include a two day cigarette butt cleanup. Show up on Results Day or assist with our count throughout the week. This entire event will take place at UNLV.
Last year, campus volunteers and club partners came out in force to collect 16,435 cigarette butts in under 6 hours. What a feat! Let's see how much more of an impact we can make this spring with more volunteers and more time. Let's Kick Butt Together!
Day 1: March 20 at Pida Plaza
Day 2: March 21 at North Field
Day 3: Results Day - March 22 at Pida Plaza
Admission Information:
This volunteer activity is free. Please RSVP to participate in this event.
Walk on volunteers will be accepted but we highly encourag you to RSVP if you would like to select a participation preference. Find the zone map for the cleanup attached. If you will be participating in the cleanup, please print and bring this map with you on the day of the event.
Parking passes may become available upon request. Contact stac.unlv@gmail.com to make a request or submit any questions about the event.
More info on this event:
http://www.surveymonkey.com/s/VKLQGXC

Event Sponsor: Student Tobacco Awareness Coalition, Southern Nevada Evolvement via Southern Nevada Health District
Related Events
Related Links
Looking to get involved?
Check out student organizations at UNLV.